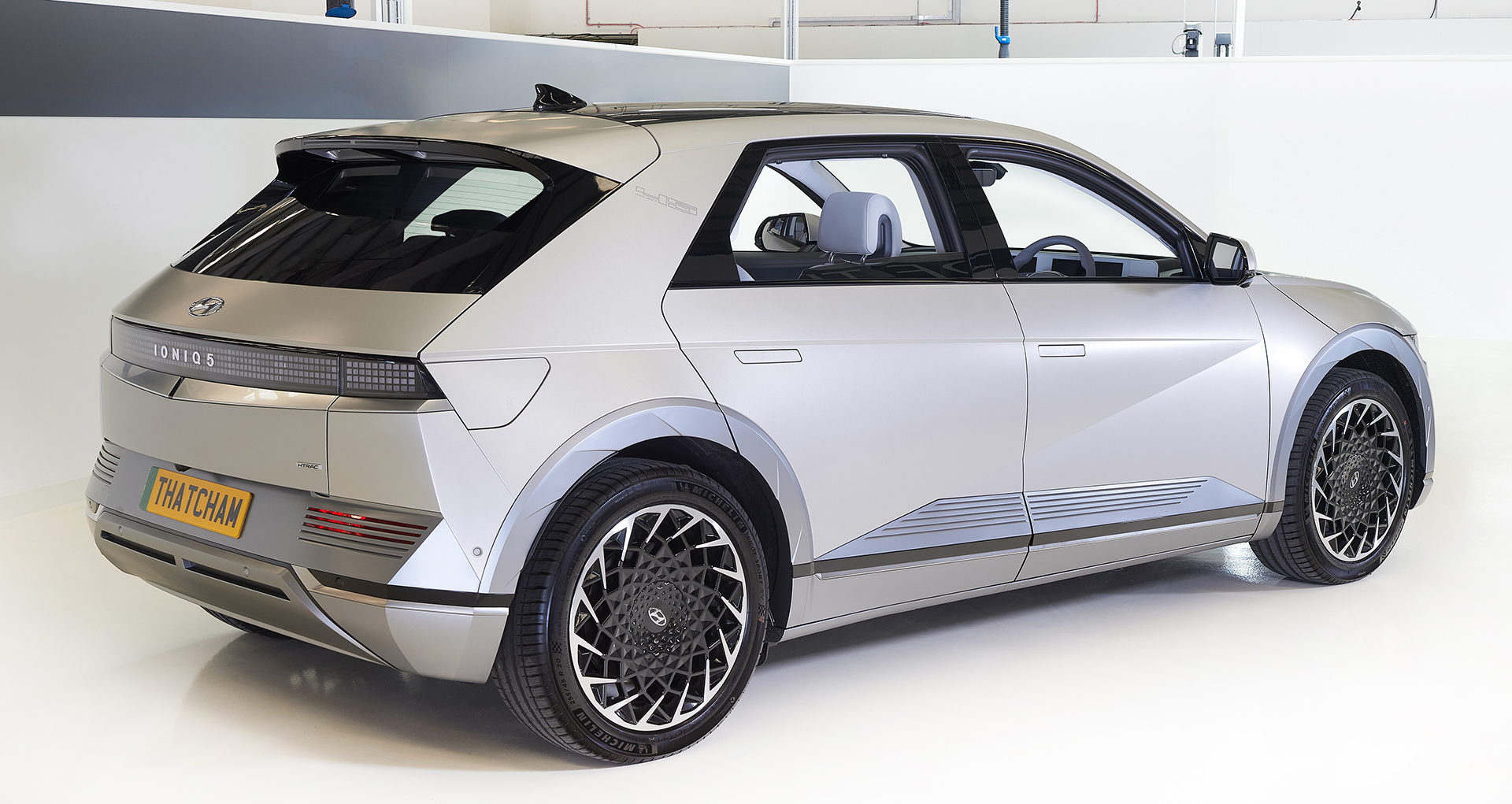 This blog has been written by Thatcham Research's chief engineer, Ben Townsend, who leads the team currently working on the IONIQ 5, an ongoing research project in Thatcham's Repair Technology Centre (RTC).  
Any blog posts on the IONIQ 5 document first impressions of the team who are working on the vehicle. The details below are not final research findings or repair recommendations.
The team have taken the IONIQ 5 out on the road and track to understand how it drives, and how the technology supports the driver.  
This top spec 'Project 45' variant of the IONIQ 5 is loaded with technology. First impressions in the driver's seat are positive; the instrument binnacle and centre screen are well laid out and the resolution is clear. I have not yet had a chance to work out how customisable layouts can be, but out of the factory, the standard layout tells you all you need to know.  
The use of screen driven menus for a lot of settings and infotainment is not unusual to see now, and the IONIQ 5 is no different. Some of the team found the far side of the centre screen a bit of a reach from a good driving position. Other first impressions are the use of both door mirrors and cameras for rear view, and a sharp head-up display. The relatively low refresh rate of the door mirror camera feed may not match the best audio-visual experience we are used to, but it's useful to provide additional blind spot safety. The combination with traditional mirrors will likely make the transition to this sort of technology easier for a wider range of drivers.  
The head-up display is a real highlight. I can safely say it is one of the best currently available, however it is only available on the high spec model. We have not yet looked at any augmented reality functionality.  
This spec of the IONIQ 5 is a very powerful car, with 225 kW (approx. 300bhp) power output, and a 0-60mph time of about 5 seconds; however, the power and steering application is very relaxed and does not encourage a sporty drive. 
When reviewing the sign recognition and speed limit functionality, things did seem to be rather complex, however this is not uncommon. As capability increases, so does complexity of use. Once the team had reviewed the manual and spent a short time understanding the system before driving, it became more straightforward to use and differentiate between Smart Cruise Control and Speed Limiting Functionality. Performance certainly appears to be in line with its peers, but we shall be challenging this further during our research. 
We have tested the wide range of emergency systems at our track facility. There appears to be good consistency on emergency performance when they are activated and we will continue to push the environments to understand system effectiveness, and possible limitations, to really understand how the technologies fitted may affect accident likelihood.  
---