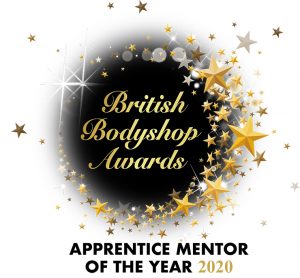 Mentors play a vital role helping to shape and guide apprentices on their learner journey. This award celebrates the unsung heroes who have such a positive impact on apprentices.
Tell us about your mentor and how they have demonstrated outstanding commitment to you/your apprentice. Their mentorship and the important role they have played in shaping your apprentice journey and early career could then be recognised at the British Bodyshop Awards 2020.
Nominations can be submitted by the apprentice or by the manager. Please share as much information as you can telling us exactly how the mentor you would like to win the award has gone above and beyond in their support and help for an apprentice.
Dean Lander, Head of Repair Sector Services says "Mentors play a crucial role in the journey of apprentices and helping them realise their full potential. Often these individuals undertake the role of Mentor outside of their usual day job and invest tirelessly in their apprentices. This award is a great opportunity to give something back and say thank you to an unsung hero".
Details of how to enter and where to send your nomination are below.
Key dates
Submission deadline: 12:00 on 27 February 2020
Finalists announced: 12 March 2020
Awards: The evening of 5 May 2020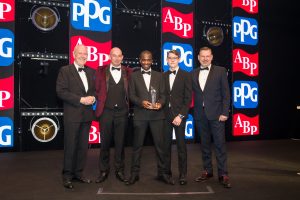 Previous winners
2019 winner – Nemhoy McCooty, DLG Auto Services
2018 winner – George Roberts, Solus
2017 winner – Aidan Pickles, DLG Auto Services
Judging
The nominations will be judged by:
Shelley Cheshire, CEO, RepairTalks
Katie Cox, Apprentice Technician, Thatcham Research
Dean Lander, Head of Repair Sector Services, Thatcham Research
Bob Linwood, CEO, AutoRaise
Steve Nash, CEO, Institute of Motor Industry
Chris Weeks, Executive Director, NBRA
Bill Wing, Academy Services Manager, Thatcham Research

Terms and Conditions
Nominations for the Apprentice Mentor of the Year 2020 award open on 7 February 2020.
The closing date for nominations is 12:00 on 27 February 2020.
Entries for the Apprentice Mentor of the Year award must detail the outstanding commitment that the mentor has demonstrated during the period 1 June 2019 – 29 February 2020.
Only the first submitted nomination will be accepted.
Nominations should be submitted to customerservices@thatcham.org 
Three finalists will be chosen to attend the award ceremony on 5 May 2020. Should your nomination become a finalist Thatcham Research will contact the nominees on Monday 2 March 2020 and an official announcement will be made on Wednesday 12 March 2020.
Accommodation will be provided by Thatcham Research. Finalists will need to arrange their own transport to and from the awards.
The personal information collected on the nomiation form will be used for the administration and management of nominations for the British Bodyshop Awards and will be shared with the Auto Body Professional Club (ABP Club) for this purpose.
Where you nominate someone and provide their personal information on this form, please ensure they are happy for you to do so. Please make sure that the nominee (and their apprentice) are available to attend the ceremony on the night of 5 May 2020.
For further details of how Thatcham Research and the ABP Club may use the personal information collected on this form, please see Thatcham Research Privacy Policy and ABP Club Privacy Notice.
These links should also be made available to the nominated individual whose information is provided in this form.
---