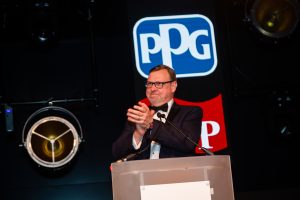 Thatcham Research celebrates exceptional repair industry talent at the 2023 British Bodyshop Awards.
Apprentice Employer of the Year introduced to its already established awards for 2023.
Increasingly complex car repairs, an automotive industry skills shortage and the need to maintain cost efficiencies are just some of the challenges faced by today's vehicle bodyshops. Automotive apprentices are an essential part of any thriving bodyshop, future proofing businesses with skilled, motivated young people who represent the bodyshop managers and industry leaders of tomorrow.
Pictured above, Dean Lander, Thatcham Research head of repair sector services said, "Well trained apprentices ensure vital new skills are brought into this rapidly changing sector of the automotive industry.
"Continual professional development has never been more important and that's why Thatcham Research, the expert voice of automotive safety, security and sustainability, celebrate talent within the vehicle repair industry and the role repair has in enabling sustainable mobility."
Safe and sustainable repair
The 2023 BBA event, held in Manchester, UK – May 04, 2023, honoured those enabling safe and sustainable repair, while emphasising repair as a career destination and attracting young people into the industry. Thatcham Research sponsors three awards, which it believes represent excellence in training and inspiring the next generation of vehicle repair specialists.
In recognition of the vital part that employers play in progressing talent, Thatcham Research introduced an award for the 'Apprentice Employer of the Year' for 2023 to accompany the already established 'Apprentice Mentor of the Year' and 'Apprentice of the Year' awards.
Lander adds, "The new award celebrates employers that display commitment and dedication to apprentices and whose guidance and experience played a significant role in their success."
To decide on the Apprentice Employer of the Year winner, the judging panel examined how employers support apprentices, how they appoint and engage with mentors and how they engage with the community at large to promote the body repair sector, as well as their own business.
'Unbelievably awesome'
Jim Swann accepted the 2023 Apprentice Employer of the Year on behalf of Apollo Accident Repair Group Limited. Jim remarked, "Apollo Accident Repair Group Ltd are overjoyed. It feels unbelievably awesome. This process forces you to reflect on your achievements, successes and the positives, which is something that we generally don't make enough time for, as we are so focused on enhancing the present and the future.
"I believe apprentices are extremely important to industry and we all have a duty to ensure they receive the best training experience to allow them to develop and grow ready for the technological changes of tomorrow. Thatcham Research play such a huge part in our Academy, our organisation and especially the amazing skills and knowledge our young people collect from the Thatcham Research Automotive Academy. Thank you to everyone involved."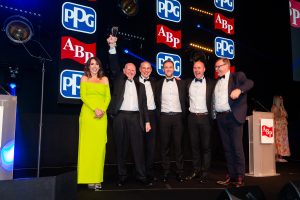 Jim Swann accepts Apprentice Employer of the Year award with colleagues
Evolving technology
Thomas Doig of Apollo Accident Repair Group Limited won the Thatcham Research sponsored 2023 Apprentice Mentor of the Year award. Thomas stated, "When I was told, I was incredibly overwhelmed with emotion, and really touched by being recognised. I've always enjoyed engaging with apprentices, helping and seeing them blossom into skilled and valued members of the team. This [year] is actually my first time being a direct mentor so being more involved has been a brilliant experience for me.
"We are at an exciting stage where the [automotive] technology is evolving fast," he continued. "We need to be aware and constantly evolving our knowledge to ensure that repairs and colleagues are safe. I have enjoyed adding one-to-one mentoring into this, combining hands on skills with advanced technologies and there are more and more opportunities for continued development."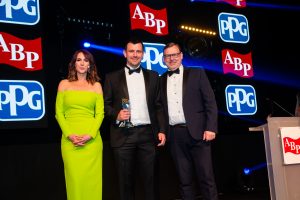 Thomas Doig, centre, with The One Show's Alex Jones and Dean Lander
Damage reversed
Solus Accident Repair Centres' Aaron Thomas was awarded Apprentice of the Year 2023. Aaron said, "Throughout my apprenticeship my parents and friends have supported me and to see their faces when I told them was great; you could see how proud they were of me, and my sister commented 'my brother is the best again'.
"My highlight of the year was qualifying for my apprenticeship after three years. I enjoy my job and no task is ever really the same. Every car coming through our workshop has different damage which requires different solutions to get it back to pre-collision condition. There's always something new to learn especially with all the new technologies coming out and it's really satisfying to see the damage be reversed."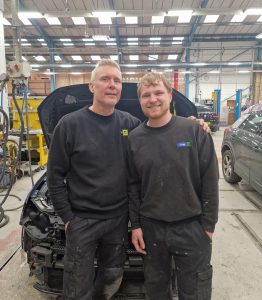 Aaron Thomas (right) pictured with his mentor Trevor Pennicott
---