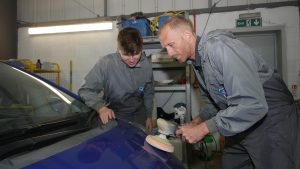 Bradley Rankin awarded Apprentice of the Year 2022 for being an enthusiastic and passionate employee.
Highly skilled technician Lee Rankin is awarded Apprentice Mentor of the Year 2022
The ABP British Bodyshop Awards took place last night, giving companies an industry platform to recognise and celebrate the fantastic work of bodyshops and individuals throughout the year.
As a diamond partner, Thatcham Research presented two awards on the evening: the Apprentice of the Year and the Apprentice Mentor of the Year. The awards celebrate apprentices that display commitment and dedication to their work, as well as honouring the Mentors whose guidance and experience plays such a huge role in the success of apprentices.
The 2022 winner of the Apprentice of the Year award is Bradley Rankin of FMG Gloucester. Bradley was nominated for being an enthusiastic and skilful apprentice with exceptional attention to detail. He has grown in ability and confidence through his apprenticeship and his passion for work is clear, as he regularly goes above and beyond.
Lee Rankin, also of FMG Gloucester was crowned Apprentice Mentor of the Year 2022. Lee is a highly skilled technician who takes great pride in his work. He has been an excellent mentor for Bradley giving praise, encouragement and clear direction when required. He is not afraid to push Bradley and ensure work is completed to the highest possible standard.
In addition to being an outstanding mentor to FMG apprentices, Lee takes a personal pride in his achievements with Bradley as the pair are father and son. They have been working together since 2018 and are a formidable team in the workplace.
Dean Lander, Head of Repair Sector Services, Thatcham Research comments: "It is fantastic to hear of Bradley and Lee's achievements and even more impressive that these skills must run in the family! Nevertheless, Bradley is a hugely competent apprentice, and any business will be lucky to employ such a brilliant young talent. He is sure to succeed in any future endeavour he chooses. It's also clear that Lee is a confident, encouraging and knowledgeable mentor who would be a great asset to any apprentice's learning."
Chris Pennell, Chief Technical Officer at FMG adds: "Not only did our apprentice and his mentor hit the mark, but they have also set a fantastic standard of what can be accomplished with dedication and know-how. I am very proud to have both Lee and Bradley as employees and look forward to seeing all our apprentices flourish during their time with FMG Repair Services."
---