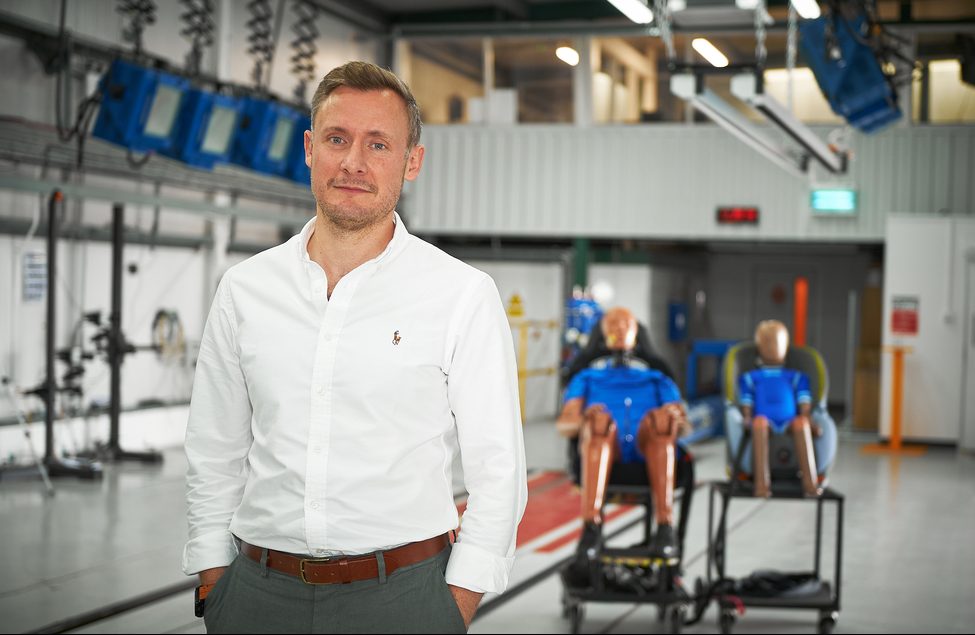 A passion for motorsport and a willingness to take a chance helped Thatcham Research's Chief Technical Officer supercharge his career.
Why did you get into automotive? 
When I was a kid watching F1, Niki Lauda was my first motor racing hero. My best friend's dad was a guy called Sheridan Finn, who was well-known in motor racing circles. He was one of Frank Williams' guys from the early days, and he took our class at school to look around the Williams factory. I also went to the 1992 British Grand Prix and met Nigel Mansell. The other thing I was interested in was aeroplanes. In fact, I'm learning to fly at the moment. I went to Loughborough University to do aeronautical engineering and I was going to join the RAF, but my enthusiasm faded. I think I was more interested in flying than being told what to do. The course was an aeronautical and automotive joint course in the first year, so I switched over to the automotive side. It was a good course at Loughborough and it's still going now.
How did you make the jump from studying to working in the automotive sector?
I did a student placement in my third year. I applied to lots of places. I think I sent out
120 letters. Lots of letters, but very few replies. A couple of nice people did actually give me some responses, and Xtrac invited me over for an interview. I was their first ever student, and they gave me a job designing gearboxes for racing cars.
How did your career develop from Xtrac onwards? 
The beauty of Xtrac was the variety of things to work on. I worked on touring cars, World Rally cars, sports cars, F1, the IndyCar and a lot of American motorsport, which I loved. It gave me a broad view and lots of different projects to work on. I went to every F1 race as a Support Engineer in 2002 and 2003. My career progressed until I went to Renault F1 in 2006 – when the bright lights of their equipment became too much for me to resist.
Why did you leave Renault F1 and return to Xtrac? 
I missed the variety. When you're at an F1 team, you lose some of the challenge because you can do anything within reason. Having the restriction of budget or regulations, and then having the variety of different Formulas to work on was what I missed. So I ended up going back to Xtrac as a Principal Engineer.
You left Xtrac for a start-up. How did that go? 
The startup company was designing an unmanned aerial vehicle. The opportunity to join a startup, to go from a comfortable position in a well-established company, and to build from the ground up, understand funding and take something from the beginning felt like an opportunity I couldn't turn down. But I didn't get to do any of those things because it ran out of money. Thankfully, an opportunity came up at Williams Advanced Engineering to do some contracting as a Transmission Designer on the Jaguar Formula E car. That was the path forward, and they
employed me full-time after a few months.
How did you then make the shift to Thatcham Research?
I got pinged through LinkedIn about the role of Chief Technical Officer at Thatcham. It's not always easy to spot a good opportunity, but a bit of persistence on someone else's part is worth meeting in the middle. So I went for a chat. I did my research; I understood what Thatcham did, I understood what the role might entail. There's lots of information out there you can access these days to understand a company.
What advice would you give to someone considering an automotive career?
It's hugely exciting. Transport has changed the world in the last 100-plus years, from horse and carts to bicycles, to cars
and what we see now. That's not going away. That merging of technology, software and hardware, but also different ways of thinking about things – it's new mobility. Automotive
is no longer just about turning spanners. There's something for everyone. If it's software, if it's computing, if it's control systems – whatever it may be, there are lots of opportunities.
This interview was published in the IMI's MotorPro Magazine.
---