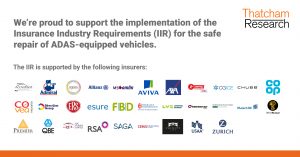 On behalf of our insurer members, we have released a set of Insurance Industry Requirements (IIR) for the safe repair of ADAS-equipped vehicles. 
The requirements come as the number of ADAS-enabled vehicles on UK roads reaches 4.5 million, a figure that is set to grow exponentially as carmakers increasingly fit the latest driver assistance technology to new models. 
Richard Billyeald, our chief technical officer, said: "The correct procedures for the safe repair of vehicles with ADAS, and in what scenarios calibration of the systems themselves is required, has been a well-established challenge for the automotive repair industry. Today the IIR brings clarity to repairers and enables the long-term sustainability of ADAS-equipped vehicles. 
"Sensor calibration requirements vary greatly from one vehicle to another. But no matter what model is being fixed, it's essential that manufacturers' technical specifications are met to reinstate ADAS features safely, without compromising performance." 
Click the link to discover more, including downloads of the IIR document and accompanying guidance:
---