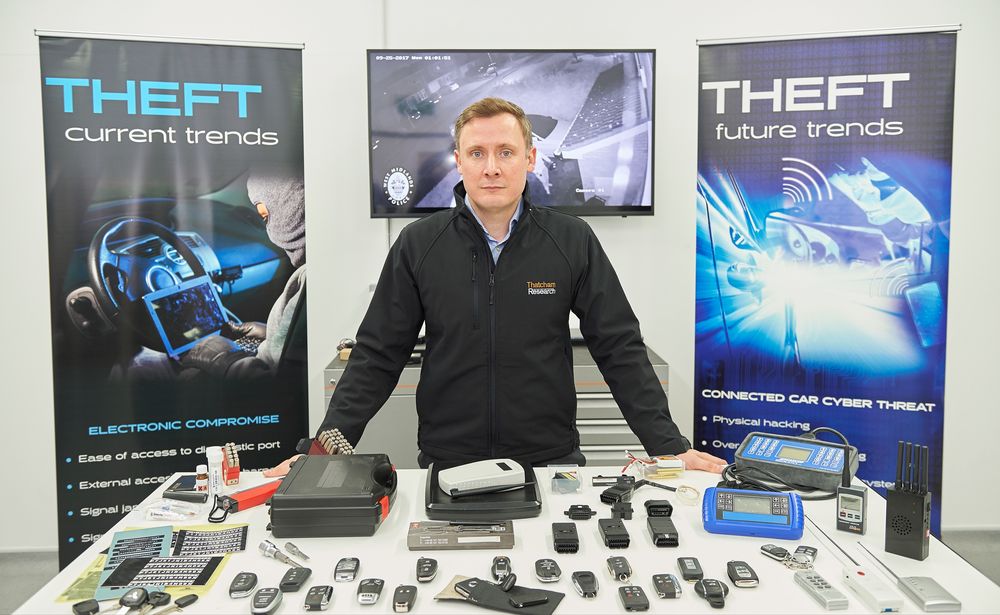 Richard Billyeald is chief technical officer at Thatcham Research and is responsible for the engineering function across the business. In this blog, Richard shares his top ten tips for car security, and explains how thieves are increasingly turning to new methods to steal cars.
In 2021 the police recorded 48,400 cars as stolen. This figure is up from 46,800 the previous year, though 20% fewer than 2019.
Although an increase in thefts will be a concern to car owners, we are still a long way from the endemic car crime seen in the early 1990s – where upwards of 600,000 vehicles were stolen in a single year, typically with equipment found in your basic toolbox.
Huge progress has been made since the 1990s, with car makers successfully adding layers of new security to deter opportunistic thieves. Fast forward to 2022 and vehicle theft looks a lot different. Largely the work of sophisticated criminal gangs, vehicles are typically stolen using digital kit to circumvent mechanical security.
A great example is keyless entry systems. These are common systems but can be problematic for car owners due to potential exploitation by criminal gangs using a technique known as the 'Relay Attack', to steal the vehicle. Many car makers do now offer countermeasures with new vehicles such as motion-sensor fobs, however, all new cars with keyless systems should have a solution to this long standing-vulnerability.
If you're in the market for a new car, it's important to be mindful about security, and have a checklist of questions prepared around keyless entry, connected systems, apps, alarms, and immobilisers.
Below, I've shared some of my top tips for drivers wanting to increase their vehicle security:
1. Make sure your car is locked in the first place!
This may seem an obvious one, but a large proportion of thefts occur from unlocked vehicles
Always check the vehicle is locked and the windows are up after using a keyfob
Listen for the locking noise and watch for the lights to flash or mirrors to fold.
2. Keep valuables out of sight
An old saying but a valuable one: 'Out of sight, out of mind'. Remove all valuables from your vehicle.
3. Do you have an alarm and immobiliser?
Ensure your vehicle has a Thatcham Research-certified alarm and immobiliser and tracking system fitted. Some insurance policies require the fitment of a tracking device, so it's important any associated subscriptions to monitoring services are maintained.
4. Consider investing in traditional security systems as a next-level deterrent
Equipment like a wheel lock or gear clamp can act as a visual deterrent for thieves.
5. Consider where your car is parked, especially at night
Ideally in a well-lit area with CCTV monitoring. Park your car in a position that makes it difficult for a thief to quickly move.
6. Secure against the 'Relay Attack'
If your car has Passive Keyless Entry and Start (PKES), it may be susceptible to a theft method called the 'Relay Attack'. Consider the following to make things harder for thieves:
-Purchase a signal blocking faraday pouch to store your keys in (including spares)
-Refer to your user manual to see if your PKES fob can be deactivated at night
-Speak to your dealership to see whether your vehicle has security enhancements available, such as a motion-sensor enabled fob that goes to sleep when idle.
7. Check that any company you leave your key with is a member of an accredited code of practice / professional standard such as Motor Codes (motorcodes.co.uk) or The British Parking Association's Park Mark scheme (parkmark.co.uk). If you have purchased your vehicle second hand with only one working key, visit an approved repair centre to get the missing key(s) deleted and to add a spare as soon as possible.
8. Consider in-vehicle camera options that upload recorded data to the cloud or an app
If it only records to a memory stick, that will vanish with the car if stolen. Those that offer 'parking mode' can detect and record movement when parked. This offers supporting evidence for both your insurer and the Police.
9. Link your security system to your smartphone if the vehicle allows
Does your vehicle offer connectivity? Does it offer theft alert notifications via an app? If so, ensure all alerts and notifications are active.
10. Wipe stored info from a car you're selling
Some vehicle apps and connected systems can provide access to the previous owner. If permissions remain active, ensure that all permissions and data linked to the previous owner are removed.
---